Your house is more than a few bricks and walls. It is a personalized space that has the essence of your style and creativity. People invest millions of dollars each year to renovate and revamp their existing households. Flowers can amp up the look of every home, but silk and plastic flowers are stealing the show with vibrancy!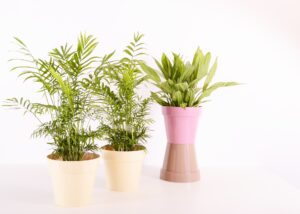 The change of tone, textures, and furniture will go a bit too far in terms of temporary change. We also shouldn't underestimate the power of big difference through small changes, because it is all about minimalism and appeal.
The world is your oyster when it comes to innovative ideas and their execution, but how to make them stand out? Here are some of our best-kept secrets to give your house a breath of fresh air. If you are someone who likes to constantly switch things around and change the atmosphere, this guide is for you!
1. HANG MIRRORS IN EVERY ROOM:
Mirrors are a game-changing accessory for your home, which can make your rooms look big and broad. They also tend to make your space look brighter because they reflect more light and pass it around the room.
The placement of your mirrors matters the most because there is no point in hanging a mirror uselessly. Don't waste your space and drill holes uselessly, the rule of thumb is to hang them particular to the windows. They will make your space look bigger and brighter as soon as they are hung, however, placement is important!
2. MAKE SURE THE LIGHT IS AMPLE:
All rooms have a specific mood and space that speaks about the aura and vibe. Your rooms shouldn't look dull, but they also shouldn't look toasted with light and glamour.
There goes in a lot of thought and understanding to decide the vibe, but most importantly setup of the room. Drawing, living, and bedrooms are mostly kept sober. We also see the usage of bright blue lights in kitchens and storerooms to see well.
Most interior designers suggest the usage of both warm and bright lights to balance the mood according to the situation. A change in lights can drastically change the mood of the whole room which is easy to fix and adjust.
3. USE A TOUCH OF COLORS HERE AND THERE
A pinch of color here and there can amp up the whole look of the house. This can be done with the usage of colorful cushions, textured curtains, abstract paintings, and plastic flowers that look real.
A designer's trick is to place canister lights or big lamps in the corner. This will cast a glow on the upper corner of the ceiling making the look seem bigger. These accents make the room seem larger than they are giving a luxurious look.
4. STAY MINIMAL:
A minimal look is better than a colorful mess. Stick to reliable tones and shades that complement the walls and other furniture. There are a lot of one-tone households that look lavish yet mesmerizing, which includes circular mirrors and textured furniture.
We advise playing with the tones and textures of already existing furniture rather than going for new pieces. Bored of the existing look? Try to turn things around the house so you don't waste resources and equipment.
5. DECLUTTER AND ORGANISE:
A little DIY goes a long way, but so does an organized room. If your rooms are messy and cluttered up, the possibility is that the overall look will be chaotic. Organize your cabinets and bookshelves for a cleaner look, your room will start looking bigger eventually.
6. CHOOSE THE RIGHT BALANCE OF TONES:
There are thousands of shades and tones of color that go well together, but it is also vice versa. A basic rule is to opt for shades against each other according to the color wheel. From a designer's point of view, the shades on the opposite scale go very well with each other.
Opt for colors that go well with your theme, there is a lot of knowledge about interior designing on the internet. If you cannot find the right color, research and you will surely find something fit for the room.
7. KEEP IT WARM:
Lighting can make a massive impact on the environment of your house and we suggest you keep it warm. Warm may seem like a dark environment for many when it is all about the aesthetic of the room.
These lights look subtle, if you have a lot of windows, chances are you appreciate soft and smooth spaces. Make sure you adjust the brightness of these lights and keep them lit according to the mood of the room.
8. PLAY WITH TEXTURES:
Cushions, curtains, and textures of wood are all examples of ways people play with the vibe of the room. Your bedroom should give off a soft vibe, whereas a living room should feel sturdy yet welcoming.
Most people like to introduce accents and textures together to decorate their rooms. We suggest you choose different materials in terms of textile blends and wall decors to switch the ambiance of the room.
9. MAKE SEASONAL CHANGES:
Styling warm looks good in winters, but do you need to switch up a few things here and there to adjust to the weather. As the time of festivals approaches, more and more people are inclined towards a festive looking home.
Style your home according to the need of the season. We know you cannot put up whole tones and change the entire outlook. This is why we suggest that you display accessories, and try those monochromatic DIYs. It will save you a lot of money and time, and give you a touch of modesty almost instantly.
These are some of our best-applied tips for a neater-looking house. Our best-applied technique is to keep it minimal and let the space speak for itself!